Great blog post by Jodie Gale:
Creative Spaces: Inside 25 Counselling & Psychotherapy Rooms
Welcome to my blog series Therapy Rocks! To celebrate National Psychotherapy Day on September 25, I have collected images of therapists' counselling and psychotherapy rooms from around the globe. Gone are the days of the blank screen, these spaces reflect warmth, creativity and authenticity.
In Mark Pearson's paper on Ideal Counselling Rooms, he shares,
"…Privileged through lack of restriction by a specified physical setting, counselling can be effective while counsellors and clients wander in a garden, sit on the earth, or walk by an ocean. For practitioners working in a more regulated organisational context, the counselling workspace has been reported as a factor that can influence the relationship between counsellor and client, as well as session outcomes."
In his photo essay, Photographs of Psychotherapy Rooms, Dr Jose Ribas writes,
"The room itself plays an important role, as it becomes the physical "holding environment" where the therapist conveys to the patient that he or she is safe to explore those areas within him/herself that are threatening or causing distress."
In the Sacred Cauldron: Psychotherapy as Spiritual Practice, Lionel Corbett says,
"When the therapist is aware that he or she is in service to the soul – and this attitude does not need to be spoken – the therapy room becomes the sacred space, the hour becomes sacred time, and the process becomes a ritual in the best sense of that word."
Creative Spaces: Inside 25 Counselling and Psychotherapy Rooms
Jodie Gale MA. Dip.Psych. BSW.
Psychosynthesis Psychotherapist, Therapeutic Counsellor, Soul-Centred Life-Coach, Group Facilitator and Trainer in private practice on the Northern Beaches of Sydney and Disordered Eating Consultant to Nungkari Treatment Centre in Byron Bay. I am a leading specialist in women's emotional, psychological and spiritual health and well-being.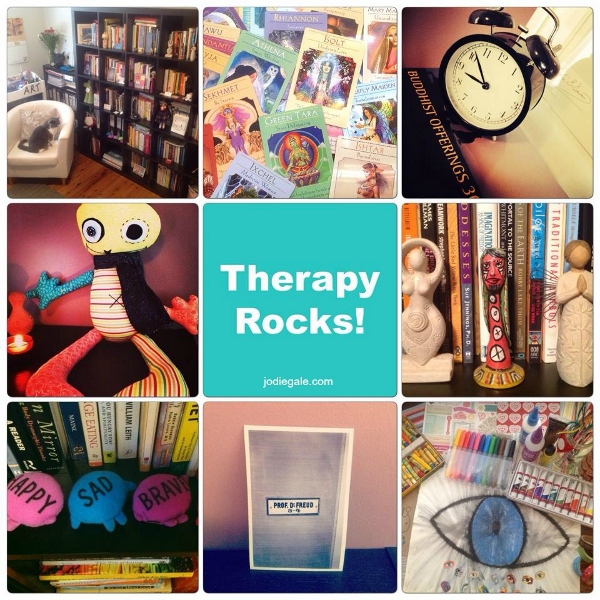 Clients comment that they love my home office therapy space and how they feel safe and nurtured there. They enjoy talking to my two British Short Hair cats – who can often be found warming my therapy room chair! I chose a dusky purple for the walls – purple is known to be linked with inner power, balancing the mind and emotions, intuition and spirituality.
1) Like most therapists – I have a great bookshelf (or 3!) 2) There are  Goddess, Inner Child and Inner Peace cards for self-care and reflective meditation for both personal and client use 3) My therapy clock 4) Meet Acute – I made this doll and I use it with clients for inner child work 5) Therapy Rocks! A blog series I started to promote the benefits of psychotherapy 6) Female deities & mythological figures collected from the many women's spiritual retreats I have participated in over the years 7) Kimochis – these are great for developing emotional intelligence 8) A few years ago, I visited Vienna and the house and museum of Sigmund Freud, the father of psychoanalysis – this is a photo of the front door at Berggasse 19 9) My art therapy and art journaling station – clients can express themselves, make meaning through art and be as creative as they wish to be.
Monique Mercado MA. LPC.
Body-Centered Psychotherapist at Austin Embodied Therapy in Austin, Texas. I specialize in working with trauma, adult children of alcoholics, and survivors of childhood abuse. My approach is Gestalt therapy, which assumes our bodily experience forms the base of our relationships in the world. I blend traditional talk therapy with alternative approaches, such as hypnotherapy, play therapy, and sand tray, into my work with adults and children.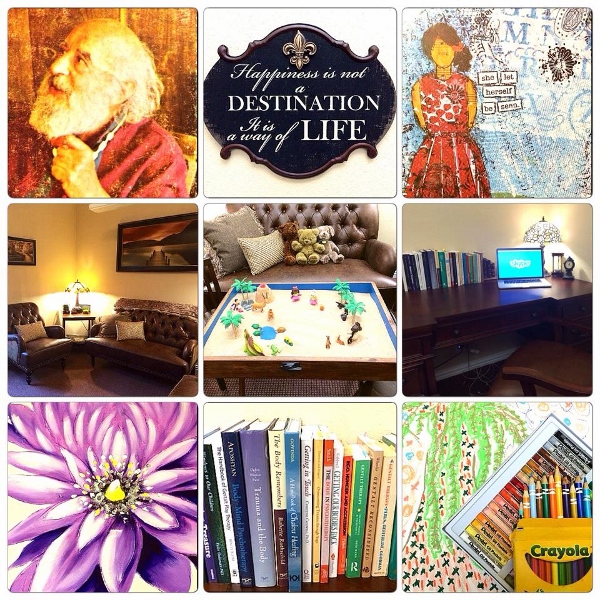 When my clients enter my office space they are welcomed into a calming space with ambient lighting and Deuter softly playing in the background. Deuter combines acoustic and electronic elements with ethnic instrumentation and nature sounds. My clients share how relaxed they feel when they enter my office. My office is also the place where I write. In between clients I am usually writing. I am a blogger, researcher, and counselor educator, and feel that in order to truly appreciate my office space, you must appreciate the energy and space of me as a writer. My clients often ask me how my writing is going and are always interested in new books on Gestalt therapy. The books in the photos here are ones I read often. Some of the books that I must have nearby are books on trauma, the body, the breath, Gestalt therapy, and Gestalt play therapy.
For me, Gestalt is not only an approach to therapy, it is an approach to being alive and whole. Gestalt is a way of being in the world and I cannot describe my office space without an image of Fritz Perls. Lynnette Davidson, a colleague and dear friend who was a graduate with me at the Gestalt Institute of Cleveland, drew this beautiful print that reads, "She let herself be seen". This piece of art has such sentiment value to me and my own growth and healing. This print often starts a conversation with clients about what it is like to be seen as a whole being, rather than only showing parts of our self that feels comfortable.
The focus of my practice is on embodiment. I believe it is through my embodied presence that I am able to establish a healing relationship with my clients. Without somatic awareness of ones self, one cannot be aware of the other. My clients enjoy beginning our sessions with an embodied presence exercise (e.g. body scan); some clients will even report when they are not in their body and ask for assistance to bring them back. I love my embodied space.
Stephanie Sorrell MA.
Psychosynthesis Practitioner, Clinical Support Worker and Author at StephanieSorell.Com. I am passionate about working with – and writing about  – the spiritual dimension of life and the natural environment.  My latest book, Depression: Understanding the Black Dog, is released this month.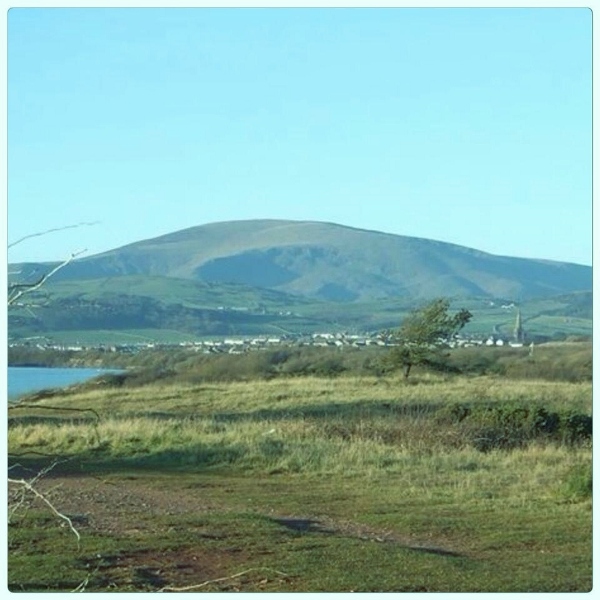 I live in Cumbria in England and this is the view from my work space window… I'm looking at it now as I type! Each year V's of geese migrate backwards and forwards across the reservoir.  It is an amazing sound to hear them passing overhead.
Andi Szasz CMCAPA. PACFA. EMDRAA.
Psychotherapist, Supervisor, Group Facilitator, Certified Daring Way™ Facilitator at Brave Therapy in Bondi and Mosman in Sydney. I am the first person trained in the Daring Way™ method in Australia and run groups based on the work of Brené Brown.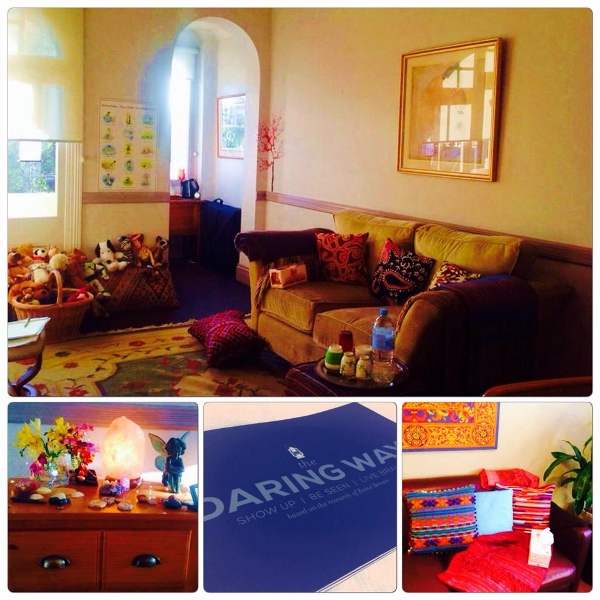 Many of the items in my therapy room symbolize hope and values, an extension of the Brené Brown, Daring Way™ work that I facilitate. The rocks feel really nice to touch and have happiness, hope, courage written on them. I also have crystals for their healing energy. I have lots of different textures, shapes and colours in the room to wake up the senses and to let clients feel nurtured.
Leslie Marshall MA. PCC.
Independent Licensed Professional Clinical Counselor with 10 years of professional helping experience, Master's in Clinical Pastoral Counselling and Chief Operating Officer at Directions Counseling Group in Worthington, Ohio. I specialize in ADHD, trauma & PTSD, conflict & communication and parenting.
Directions Counseling Group was founded in 1993 and most of the therapists have been sharing space here for 5 – 15 years.  We are pleased to have our clients benefit from a comfortable environment while receiving exceptional professional counseling services. New clients regularly define the space as warm, comfortable, inviting and friendly with exceptional customer service. I personally love the ambiance as well as the peaceful spirit that is evident in this place.  Even when I've talked with potential independent contractors to join us they've complimented the space saying, "there's just something special about this place"  – and those of us who share this space know it.
Audrey McMorrow MA. CAGS. BCC.
Board-Certified Life Coach, Masters and CAGS in Holistic Counselling and Founder of Vast Horizons Center for Personal Growth in Yarmouth, Maine. My extensive training is in Psychosynthesis, a psychological approach that focuses on achieving a synthesis of the various parts of an individual's personality into a more cohesive self. I have extensive experience in psychosynthesis guiding and working with individuals, couples and groups on the path of personal growth.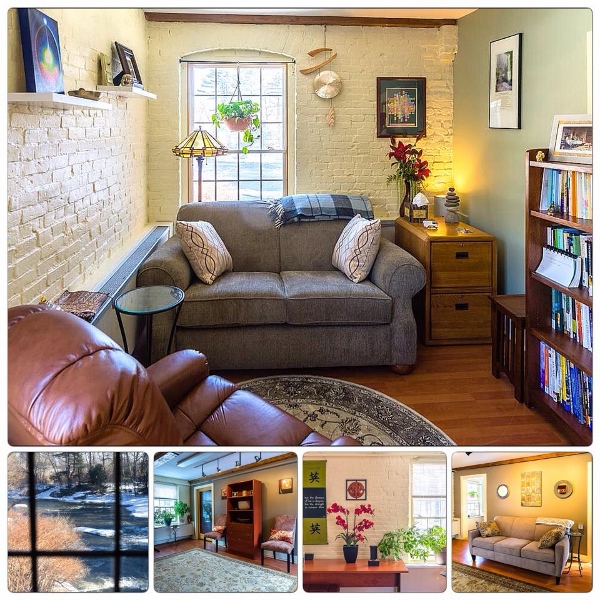 Set in Sparkawk Mill, Vast Horizons offers a supportive and healing sanctuary for those responding to the call of personal growth. What is meaningful in my office is the atmosphere of peace, acceptance and tranquillity, heightened by the sound of the river below. To watch and listen to the flow of the river, you can do so here.
Mari A. Lee LMFT. CSAT-S.
Licensed Marriage and Family Therapist, Certified Sex Addiction Therapist, Supervisor and Founder of Growth Counseling Services, a private practice recovery centre located in Glendora, California. I am recognized nationally and internationally for my ground breaking clinical work with spouses and partners of sex addicts, as well as my work with male and female sex, love and pornography addicts. I co-authored the 5 star Amazon reviewed book, Facing Heartbreak: Steps to Recovery for Partners of Sex Addicts and The Creative Clinician: Exercises and Activities for Clients and Group Therapy.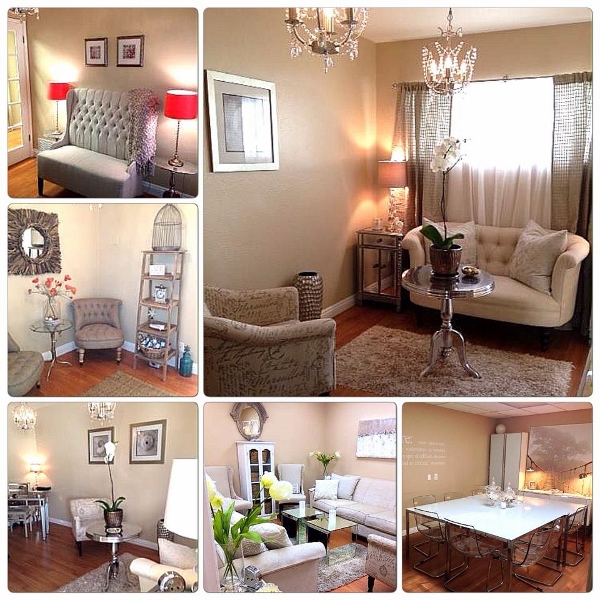 As a former interior designer, my deepest desire was to create a serene, calming space that was gender friendly. My clients share feelings of peacefulness and relaxation, some even compare our offices to a spa, which puts a smile on my heart :-).
Christel Abborre
Psychosynthesis Therapist, Life Coach and HeartMath Provider at ChristelAbbore.Com in Helsinki, Finland. I provide psychosynthesis therapy which is a modern and practical school of psychology where the will of the individual plays a central role. With the help of psychosynthesis we can access the potential in us that often goes largely unrecognized and unused. Through therapy we can learn to understand ourselves better and see why we behave as we do.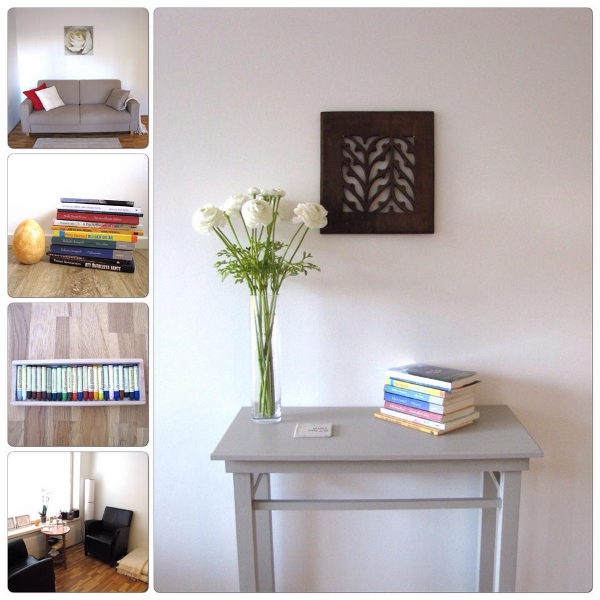 My therapy room is a studio apartment in a quiet location in Helsinki. My goal has been to create a tranquil, clear space free from clutter and distraction – a space that feels safe and welcoming and suitable for all. I feel I have succeeded in doing that. Many clients comment on how peaceful and welcoming it feels to enter the room.  Although my office is located only about 3 miles from the centre of Helsinki, the surrounding is very quiet and the sea is about 100 yards away. Many clients choose to arrive early so they can take a walk before their sessions.  I always have a white orchid in the room and I often use it to describe the process to my clients; it takes time for the bud to mature and bloom and so on. I also have a picture of a rose and a porcelain egg to symbolize psychosynthesis. I have some cushions and wool blankets for comfort and  warmth.  I use the space for writing as well as it is free from distractions.
Jessica Marchena LMHC.
Sabrina Bennardo, LCSW and myself, Jessica Marchena, LMHC founded the Heart Connection Center in Boca Raton, Florida. We named it Heart Connection because we are passionate about Healing Emotions And Relationships Together (HEART).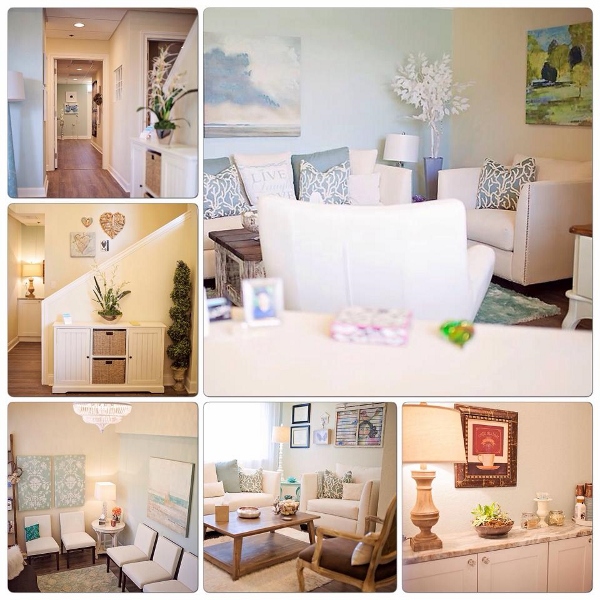 Our clients tell us that they feel relaxed and peaceful in our center. The minute they walk in the door and hear the music playing in the waiting room, they feel the stress release. We put our heart and soul into our remodel and into the decor to a create a warm and safe place for clients to come and talk about their relationship pain and improve their connection with themselves and their loved ones.
Amy Tatsumi MA. LPC.  ATR-BC.
Psychotherapist, Art Therapist, Clinical Supervisor and Certified Daring Way Facilitator-Consultant at AmyTatsumi.Com in Washington, DC. I specialize in working with women who are feeling stressed, alone, depressed, disconnected, or stuck in their relationships, careers and lives. I help them to reconnect with the people and the parts of their lives that matter most in healthy, meaningful, soulful and authentic ways. Our work together offers a continuum of verbal and experiential modalities, such as art making, sandplay, shame resilience, holistic and mindfulness to support clients to become unstuck. My other speciality is therapy for therapists.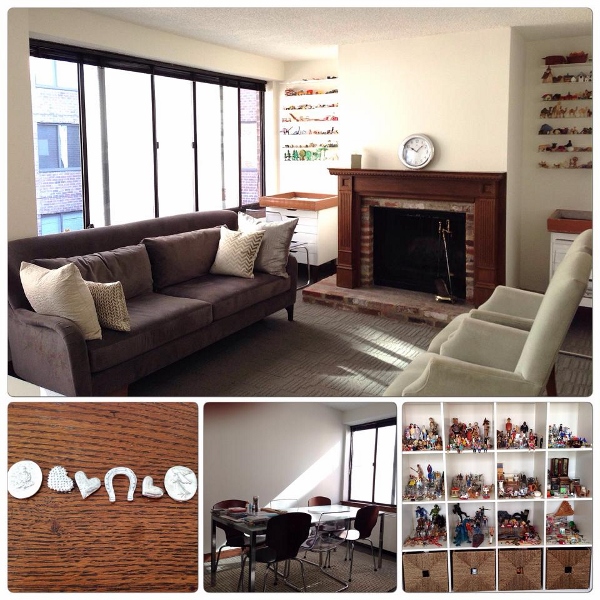 My office in Washington, DC is filled with temenos.  I became a partner in the suite in February and designed my office to flexibly meet the needs of clients.  When clients transition from their hectic city life or career into the office, many remark on the soulful, elegant, and sacred feeling of the space.  They particularly enjoy the full wall of windows with warm natural light (and fresh air when weather permits), the working fire place and are intrigued by the extensive Jungian sandplay collection (which was donated to my practice).  As a continuum of offerings are held here from individual work to weekend group intensives, no space is wasted.  Function, flow, and comfort are maximized from the 8 person working table with a sampling of art tools and media to the 8 seat sitting area. I support most clients in building resilience and self-regulation resources and one of the most favorite parts of the sandplay collection are the coin sized metal charms with varied textures used to explore part of the resource building in self-regulation and grounding.  I am grateful and honored to be able to offer this space for clients to meet themselves in the midst of life's joys and challenges.
Kylie Beattie Dip. Couns. B. Soc. Sci. (candidate)
Founder, Managing Director, Counsellor and Therapist at Nungkari Treatment Centre in Byron Bay, Australia. I am passionate about working holistically with people who are suffering with addiction and eating disorders.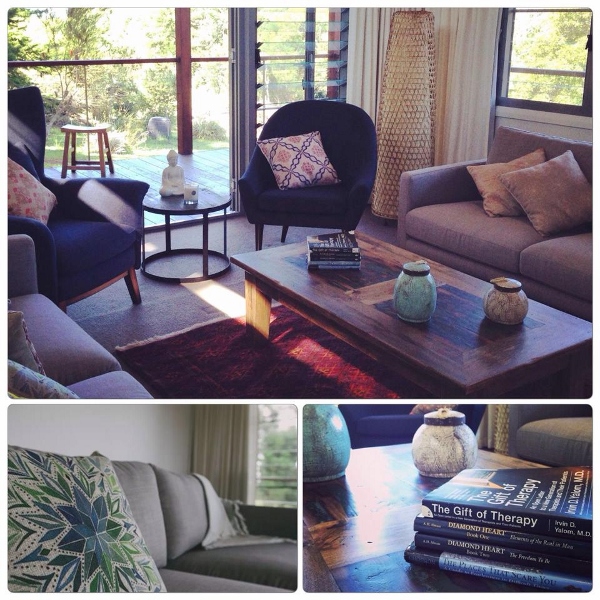 What I love about our therapy space is the natural warm light that streams through the windows and the gorgeous view out into the natural surrounds. Listening to the birds chirping, the cows mooing and the sound of the creek flowing when it rains is so peaceful and calming. It feels healing just walking into the room; the smells, sounds, taste and feeling of being surrounded by nature touches people on a soul level. The books reflect a personal journey of healing; I love sharing these literary gems with others looking for recovery. Irvin Yalom and his graceful and humble approach to therapy guide me to this day. The chapter on Struggling by A.H Almaas should be given to every person in treatment and my favourite, Pema Chodron who puts meditation, self acceptance and compassion in simple terms and with such humility.
Elizabeth Hadley MA. MFT.
Marriage and Family Therapist working at HadleyCounselling.Com in Newberg, Oregon, located in the Willamette Valley. I work with couples, children and individuals with a variety of concerns including depression, anxiety, addiction, marital issues and trauma.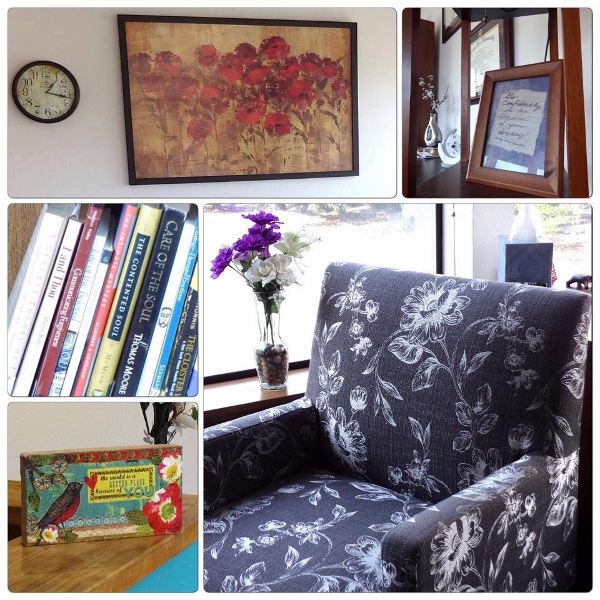 The chair is our "therapist" chair. My colleague, Margaret Fuller and I spent quite a while searching for just the right piece. Something professional, yet warm, that ties our office together and is comfortable to sit in hours per day! I love the style we chose. The art work was a something simple that was given to my colleague and felt like a positive message for our lobby. Plus the look fits our space and the bright frame brings texture to our shelf decor. We have a gorgeous view of the hills outside of Newberg from both of our offices.
We actually spent a while deciding the best way to orient the couch based on what view would be the would be the most soothing to our clients. We decided that the hills would be a great focal point. Many clients have mentioned it in appreciation. Our space on a whole is very warm and inviting. We tend to have a lavender scented candle going where clients walk in and a selection of teas and water. We try to keep track of exactly which tea clients usually choose and keep it in stock at all times. For the parents waiting, we have a wide variety if magazines to keep them occupied and an extremely comfortable couch that I have found several parents napping on more than once! Also, several of my clients have taken their shoes off and curled up immediately after coming into the session room, which I take as a huge sign of being comfortable in the space.
Kaye Bradley Williams LMFT.CSAT.
Licensed Marital and Family Therapist and Certified Sex Addiction Therapist at Hope & Healing Now in Franklin, TN. I work with people who are struggling with sexually compulsive behaviors or  addictions.  I also work with spouses or partners of addicts to help  them understand intimacy issues and to assist them in dealing with the  intense feelings of betrayal and confusion that often arise upon discovery.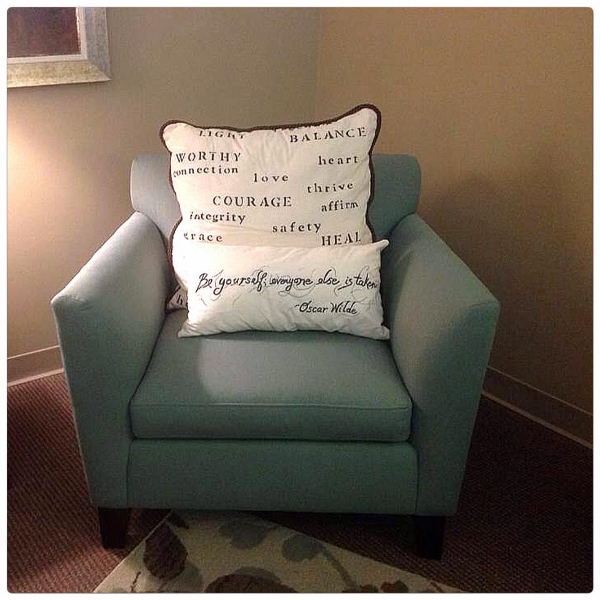 This is a chair in my office with two pillows that I made using stencils. Clients love these words of affirmation. The pillows are comfy and easy to hug too.
Blake Jones Ph.D. LCSW.
Licensed Clinical Social Worker at Access Wellness Group, Adjunct Professor in the University of Kentucky, Consultant and Researcher in the area of child abuse and neglect. I enjoy working with: couples, including pre-marital counseling and post-divorce counseling, men's issues, anxiety, depression, work-related problems and issues of spirituality.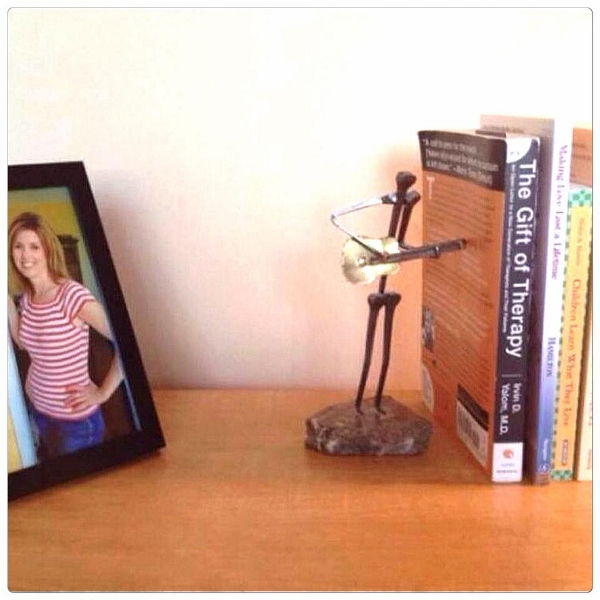 I love this space in my therapy office because it has my three favorite things in it: my wife, music, and therapy books.
Amy Sugeno LCSW.
Licensed Clinical Social Worker. I primarily work with adults who have experienced childhood complex trauma.  My specialization is working with parents who are raising a child/children who have experienced trauma as well as adults experiencing complicated grief. I am in the process of updating my website, in the meantime, you can follow me on Pinterest.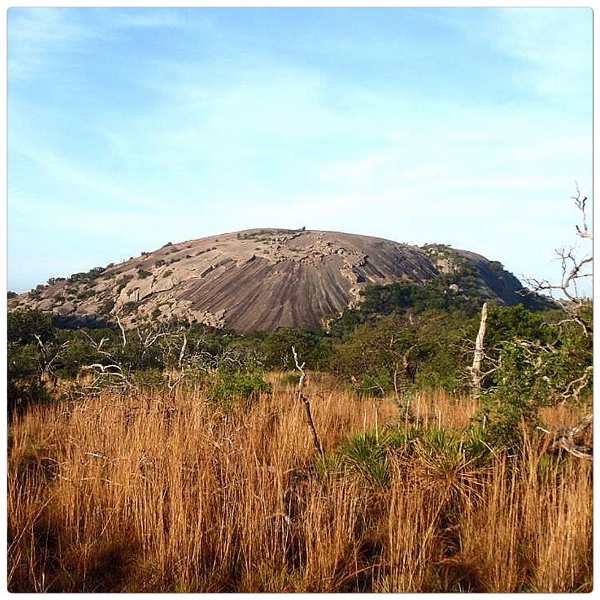 One of the things I offer is outdoor therapy – so here is a photo of my outdoor therapy "office". It is Enchanted Rock State Natural Area, a beautiful natural area near where I live/work (in the Texas hill country, about an hour west of Austin) and where I do outdoor therapy with teen and adult clients. I have found that nature and the outdoors can be a wonderful complement to traditional talk therapy for many people who have dealt with the effects of complex trauma their whole lives.  What I have noticed is that being outdoors seems to: promote mindfulness (without me even having to facilitate that – the beauty of nature just pulls people naturally into the present moment), connects people to a sense of being an integral part of something larger and more powerful than themselves, encourages healthy risk-taking (like if a person is worried about coming across wild animals), provides a sense of calm and peacefulness, promotes physical movement, promotes child-like curiosity and playfulness (such as spontaneously wanting to splash in a creek along a trail).  I use nature and the outdoors sort of like a therapeutic co-leader (whether it's individual or group).  For instance, I once took a group to watch a bat emergence (we have lots of those where I live) during a time of year when the bats would soon be migrating south for the winter.  So that gave us a springboard to begin talking about transitions in a general sense, and then the group took off from there.
April Forella MS. LMHC.
Licensed Mental Health Counselor at AprilForella.Com in North Palm Beach, Florida. I am an experienced child & family therapist specializing in low self-esteem, depression, anxiety, ADHD, divorce/blended family issues, forming and maintaining healthy relationships, past trauma, as well as those engaging in negative behaviors.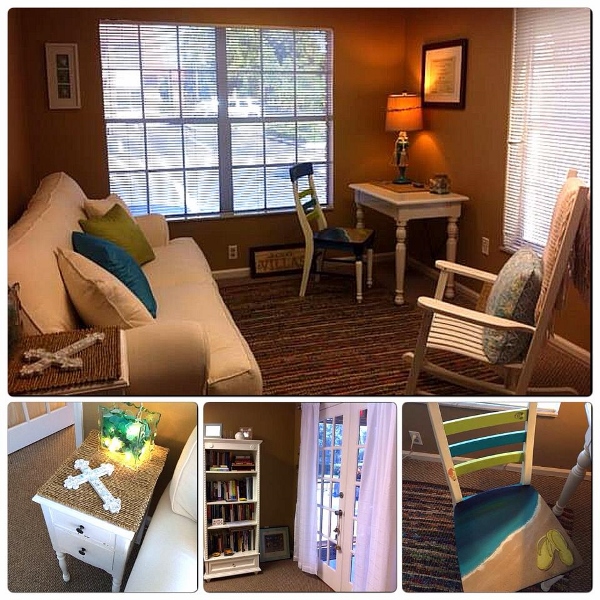 My clients are welcomed into a calm and warm environment. As you enter my office suite, you hear the sounds of the ocean, and see the reflection of sea glass that is softly lite. My office is located just minutes from the beach. Quiet and comfortable, filled with warm tones of sand, blue and teal green. My desk chair is hand painted by a local artist. The children are fascinated by the sea glass. I love my office space and so do clients.
Cait Wotherspoon
Counsellor & Psychotherapist at Indigo Therapies in Penrith CBD, Australia. I am a registered nurse, qualified teacher and a practicing counsellor and psychotherapist specialising in bereavement. I help adults, adolescents, children and families who are suffering with grief and loss. I work with them to find a sense of empowerment and to breakthrough and rediscover the joys that a full and rewarding life has to offer.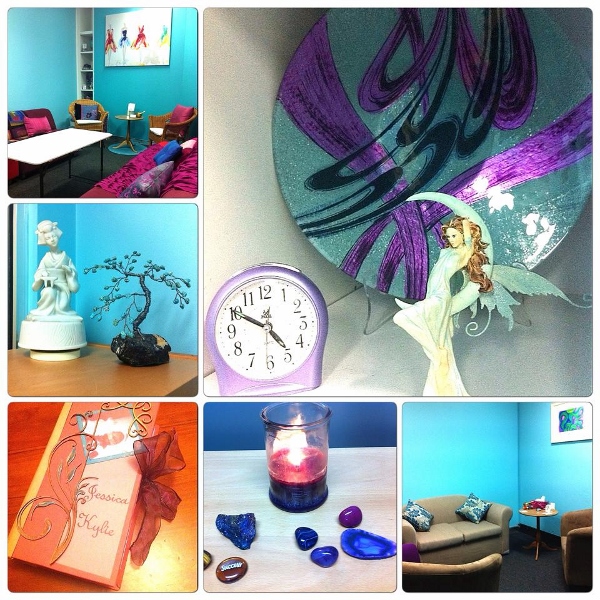 Clients love the vibrant colours I have used in my practice and are entertained by quirky objects around the rooms. I love these spaces, where heart, head and emotions meet. I have a warm and cozy consultation room where clients meet with me to talk. There is also a dynamic, spacious room where emotions meet creativity – this is where my Angel Album and The Art of Journaling workshops are conducted. An Angel Album workshop is for people who have suffered the heartbreak of the death of their child/grandchild. Memories are precious – it's a workshop where you create a beautiful memory book to keep mementos, that will become a family heirloom (photo bottom left).
Colleen Morris B.Couns. M. Soc. Sci (Family Therapy)
Family Therapist and Owner of Geelong-based Watersedge Counselling. I work across a broad range of issues with a particular interest in how early experience of family  informs the way we connect in the context of present relationships.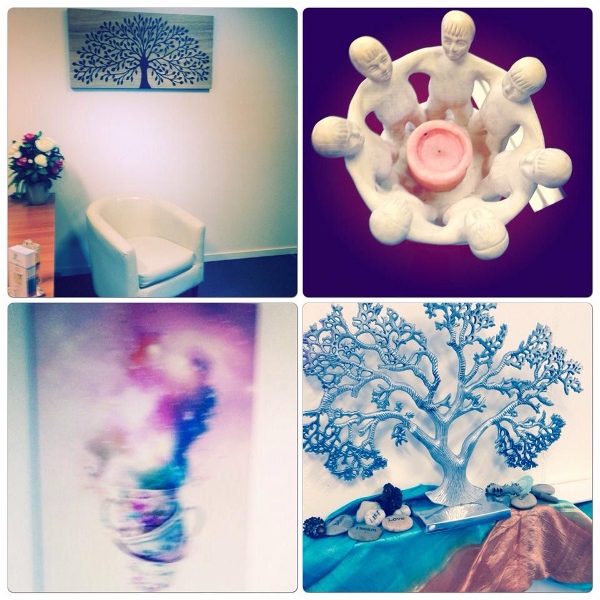 1) The Tree of Life features as a reminder that when we grow our roots deep beneath the surface of life, we become grounded, secure and productive 2) The strength and value of connection, relationship and community is highlighted by the Circle of Friends 3) The bottom left image sits above a couch and is entitled 'Storm in a Teacup' – a reminder of the way anxiety can blow things out of proportion, clients frequently identify with the image 4) Tree of Life.
Debbi Carberry
Clinical Social Worker at Debbi Carberry Counselling and Psychotherapy in Kenmore in Brisbane's western suburbs. I specialise in systemic therapy with families, couples and children.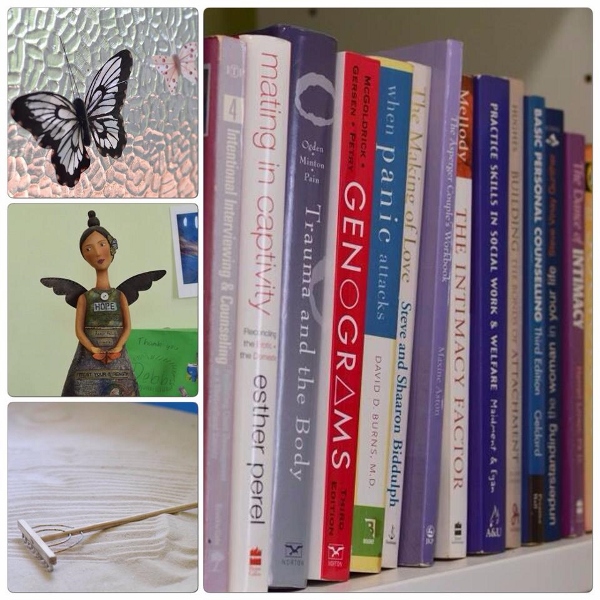 1) I have butterflies on one of my clinic windows – a window full of them – they symbolise the challenges of life and the miracle of change 2) A beautiful figurine purchased for me by my darling husband – it was made by a clinical social worker who moved from her clinical work to sculpting …. Its beautiful! 3) My dry sandtray – I do lots of symbolic work and have two trays in my room – one wet – one dry – I love this kind of work 4) I have a large bookcase in my clinic filled with many books on the issues I work with.
Melissa Ferrari
Clinically Trained Psychotherapist practising relational psychotherapy, couple & relationship therapy and coaching at MelissaFerrari.Com.  As a specialist in the field for over 15 years, I have worked with many people to help them live more fulfilling and happy lives. I help transform people by working with them individually in private practice and in my one day or two-day weekend retreats.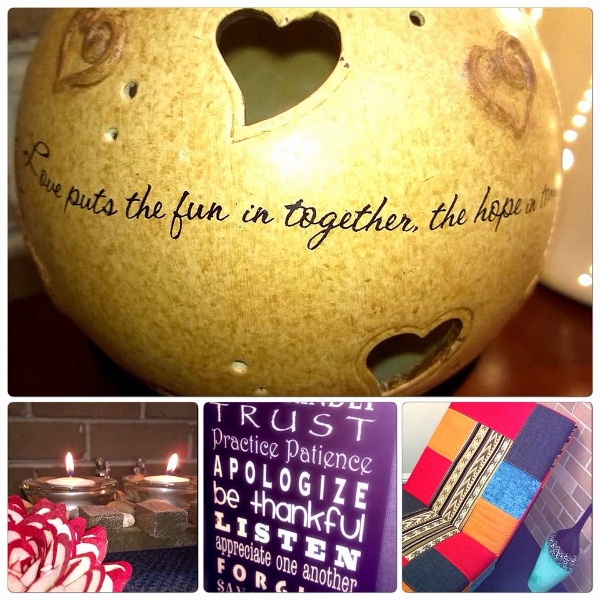 I consider my therapy office to be a beautiful and sacred space that brings me alive, keeps me centred and supports my work in service of both couples and individuals.
Traci W. Lowenthal Psy.D.
Licensed Clinical Psychologist at Creative Insights Counselling in Redlands, CA. I specialize in working with LGB and Trans individuals – or people for whom society's labels are inadequate – individuals hoping to transition into their most authentic selves. I also love working with college students, older adults and people struggling with anxiety. Sometimes all these categories intersect and show the true diversity of the human spirit!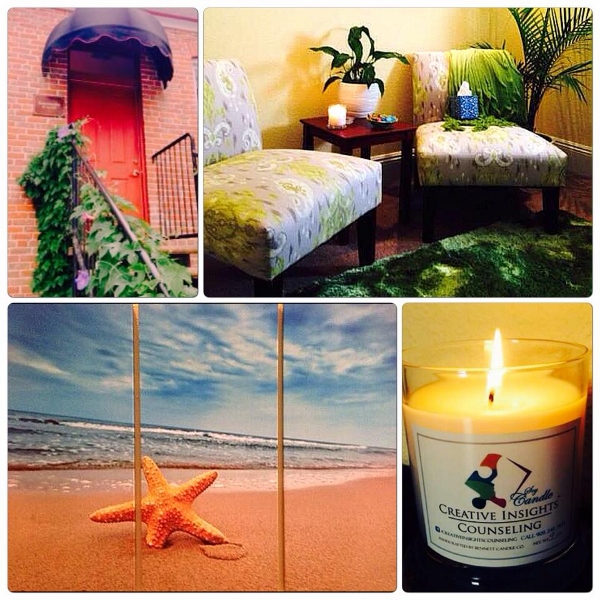 My office has a very fresh, relaxed feel, with light shades of yellows and grey, with pops of green that are a bit surprising!  I love the contemporary yet comfortable vibe of the office. One of the key features in the office is the Starfish Portrait. The idea for the starfish piece comes from The Starfish Story, which I've included.  To me, the story represents how each of us has the capacity to touch the lives of others – one person at a time. This is true for both therapist and client, and for that reason – the piece is not only beautiful, but a true representation of the power of psychotherapy.
Once upon a time, there was an old man who used to go to the ocean to do his writing. He had a habit of walking on the beach every morning before he began his work. Early one morning, he was walking along the shore after a big storm had passed and found the vast beach littered with starfish as far as the eye could see, stretching in both directions.
Off in the distance, the old man noticed a small boy approaching.  As the boy walked, he paused every so often and as he grew closer, the man could see that he was occasionally bending down to pick up an object and throw it into the sea.  The boy came closer still and the man called out, "Good morning!  May I ask what it is that you are doing?"
The young boy paused, looked up, and replied "Throwing starfish into the ocean. The tide has washed them up onto the beach and they can't return to the sea by themselves," the youth replied. "When the sun gets high, they will die, unless I throw them back into the water."
The old man replied, "But there must be tens of thousands of starfish on this beach. I'm afraid you won't really be able to make much of a difference." The boy bent down, picked up yet another starfish and threw it as far as he could into the ocean. Then he turned, smiled and said, "It made a difference to that one!"
adapted from The Star Thrower, by Loren Eiseley (1907 – 1977)
Renee Beck LMFT.
Licensed Marriage & Family Therapist, Supervisor and Trainer at ReneeBeckMFT.Com. I provide dreamwork, transpersonal counseling, therapeutic tarot, clinical consultation and supervision in Oakland, CA.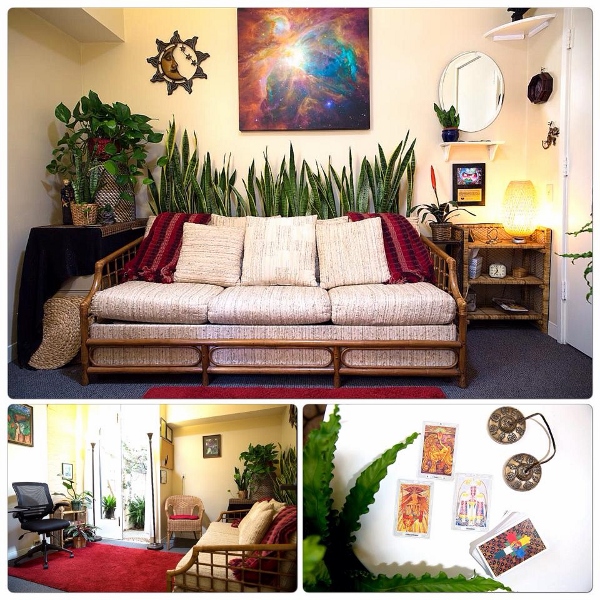 My office provides a sanctuary to reflect on the play of light & dark, joy & pain, that together create the beauty that exists in life.
Megan Bearce LMFT.
Licensed Marriage and Family Therapist at MeganBearce.Com. I specialize in supporting clients in a super commuter relationship, overwhelmed women, and gifted girls.  My writing and speaking engagements are about the issues faced by women, couples who find work demands are keeping them apart, the gifted community, and I enjoy working with people who have a hard time asking for help. I am the author of Super Commuter Couples: Staying Together When A Job Keeps You Apart.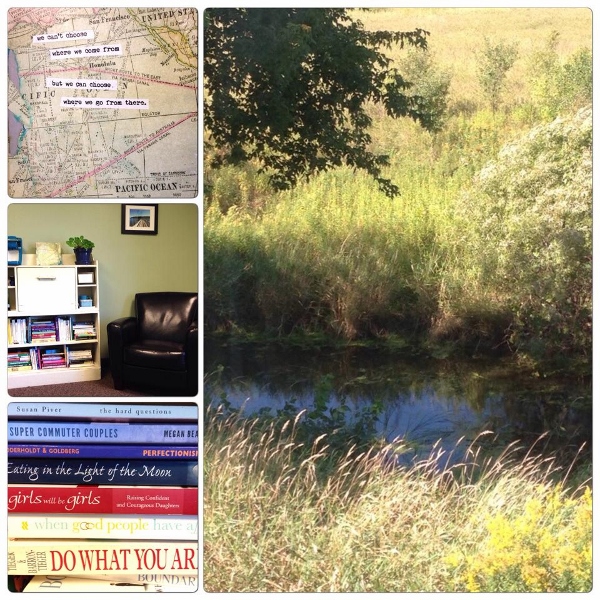 My office feels safe and comfortable – like a living room versus a doctor's office. I chose a soft green wall color and love the view of nature out the window.  I filled the office with plants and photos of lakes to bring nature inside. The books are ones I most recommend to clients. The art work I have chosen has such a great message to empower clients to move forward towards the goals they have for themselves – "We can choose…"
Sara Beresford Terry BSW.
Accredited Mental Health Social Worker at Mima Counselling Services in Menai, Sydney. For 20+ years I've been honoured to share many individual and family stories of change, growth and healing, and I look forward to welcoming many more.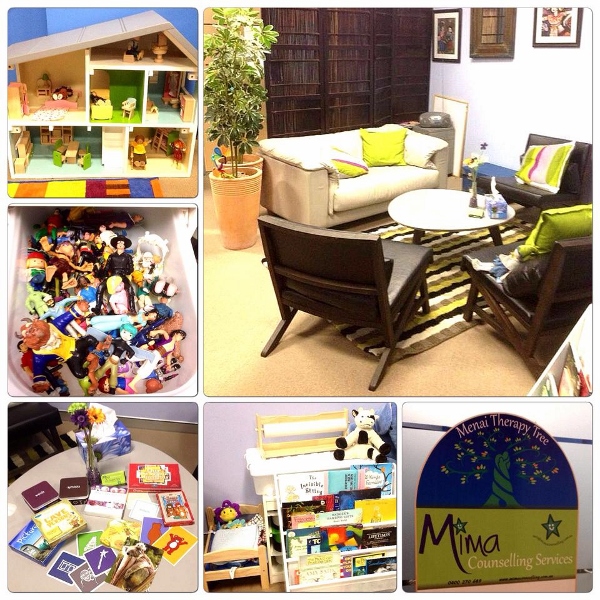 Feedback from my clients is that my space feels cosy and is a safe talking space.
1) A dear friend gave me the dolls house – many different family and relationship situations have been 'played-out' within these dolls house walls 2) The puppets and sand-tray/figurines enable children to tell their stories and try out new ideas 3) I use the 'Seriously Optimistic' cards for opening deep conversations. The imagery and symbols on these cards can be so powerful and can take the therapeutic conversation right where it needs to go 4) The doll bed and bath set gets enormous use and on the bookstand is one of my most favourite books, The Invisible String. The paper roll gets used for family time-lines and art therapy 5) The Therapy Tree door sign is very special as my son helped me design it based on the parent/child inter-twined tree trunk on a small statue my late father gave me. The name 'Mima' has a history too… it was a name given to me a long time ago by an Aboriginal family/community. They told me it means 'guiding star'. I feel I honour them by using this as the name for my practice.
Stephanie Holloway LSCSW. RPT-S.
Licensed Specialist Clinical Social Worker, Certified Story Play Practitioner and Registered Play Therapist Supervisor at Play for Children in Kansas. I work primarily with military dependents and their families.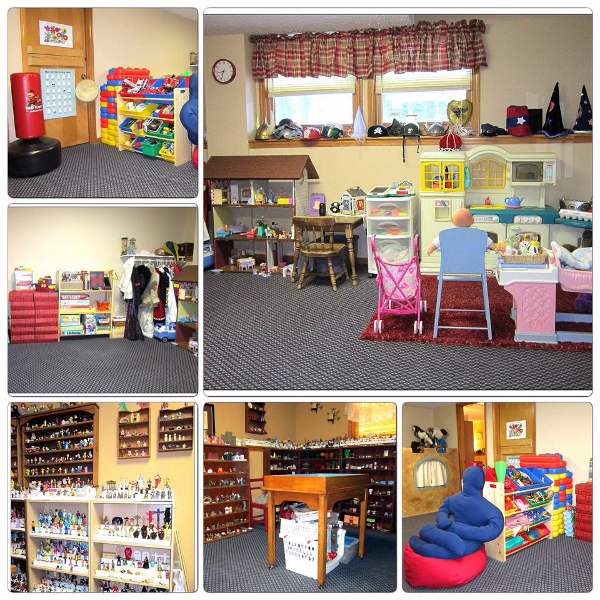 I enjoy the space because it feels like I am coming home when I enter. It feels whole, sacred, warm, and safe in my space.  Clients typically talk about it being a safe place to come and do what they need to do.
The sand tray room is actually the collection of three of us.  Two of my mentors have retired and I acquired their collections to use in my practice.  I love to see the healing that takes place in there, but I really love to see clients discover things on their own and then make changes or work through the process of healing.
About Jodie
Sydney Counsellor, Soul-Centred Life-Coach and Psychotherapist Jodie Gale, is a leading specialist in women's emotional, psychological and spiritual health and well-being. She has a private counselling, life-coaching and psychotherapy practice in Manly and Allambie Heights on the Northern Beaches of Sydney.
– See more at: http://jodiegale.com/creative-spaces-inside-25-counselling-psychotherapy-rooms/#comment-4092